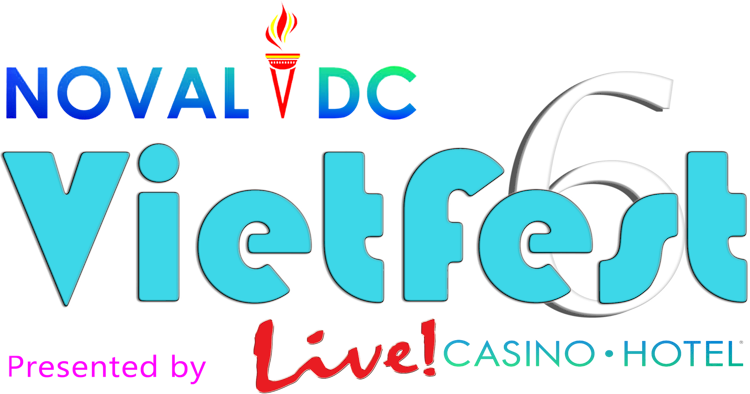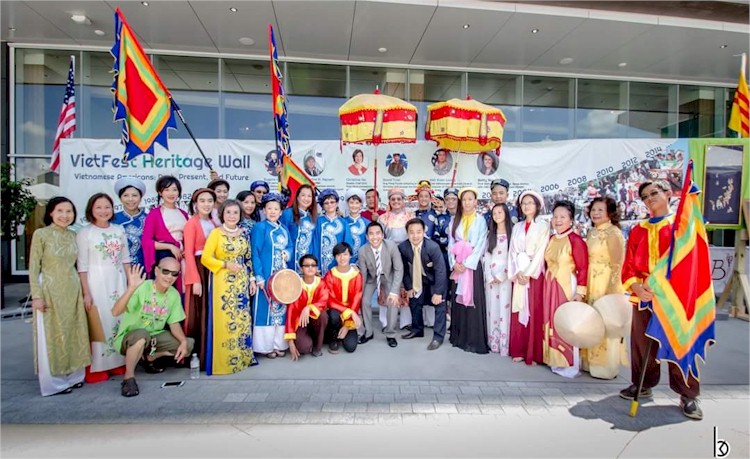 SAVE THE DATE

Saturday, Aug 12: 10am-10pm
Sunday, Aug 13: 11am-8pm
The Plaza at Tysons Corner Center (Tysons I)
1961 Chain Bridge Road, McLean, VA 22102

We cordially invite you to our
Sixth Annual Vietnamese Heritage Festival.
More info at: http://www.vietfest.com

VietFest Planning Meeting
Thursday, July 6, 7:30pm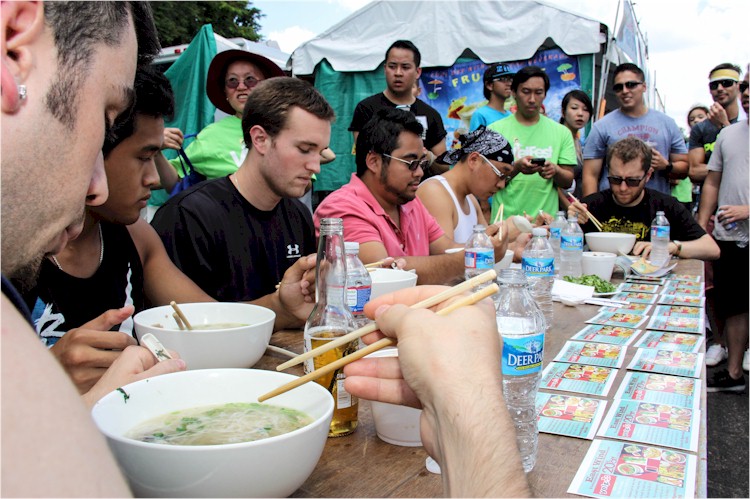 Join us at our second VietFest Planning Meeting Thursday, July 6th at 7:30pm to learn what's new this year and how you can get involved in the largest Vietnamese Festival on the East Coast!

We will be meeting in the conference room at the First Financial Security offices at 7925 Jones Branch Drive, McLean, VA, 22102.

Spread the word!

https://www.facebook.com/events/1103206863112714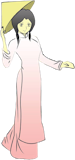 Miss VietFest United States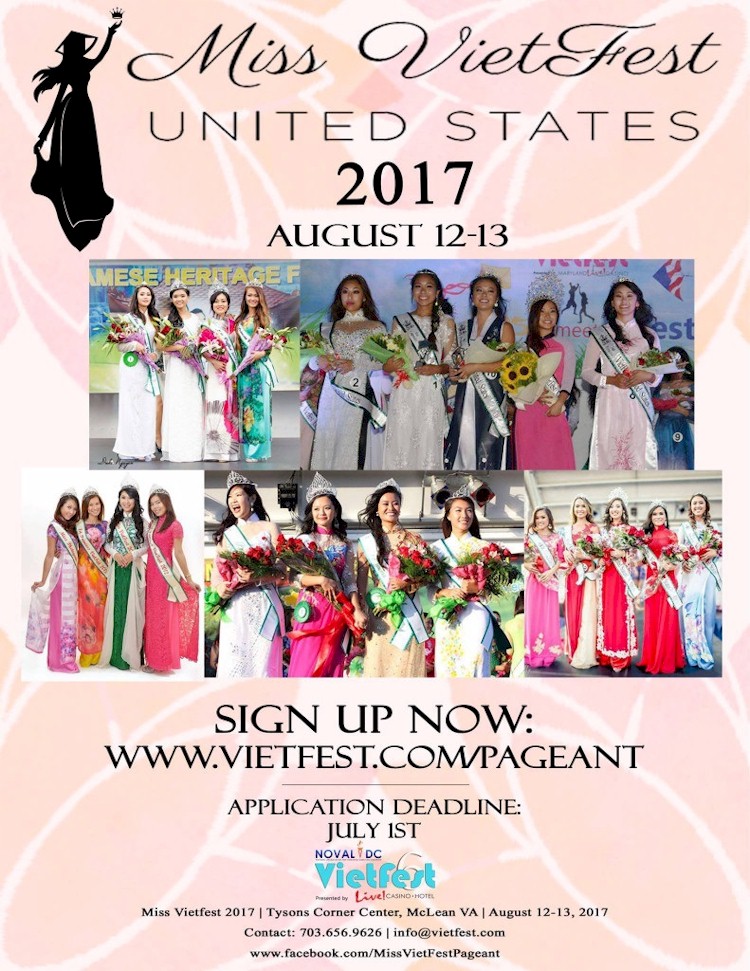 Established in 2012, the Miss VietFest US Pageant is a scholarship competition that celebrates the modern Vietnamese American woman.

The deadline to sign up for the 2017 Miss VietFest United States Pageant is closing soon and with it the chance to:

Win among $3,500 in prizes
Gain new friendships
Reconnect with Vietnamese Culture
Improve Public Speaking and Interview Skills
Network with Community and Corporate Partners
Receive Modeling and Pageant Experience

And of course be crowned Miss VietFest United States 2017!

If you think you or someone you know could be the next Miss VietFest United States, don't delay! Sign up! Spread the word!
More Info: http://www.vietfest.com/pageant

REGISTRATION ENDS THIS WEEK! APPLY NOW!

Mr. VietFest Competition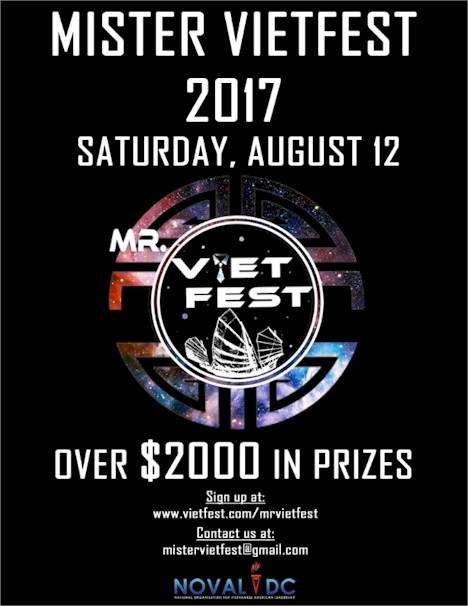 You have what it takes to be this Mister VietFest 2017?
The deadline is this week! Sign up now!

VietFest's Got Talent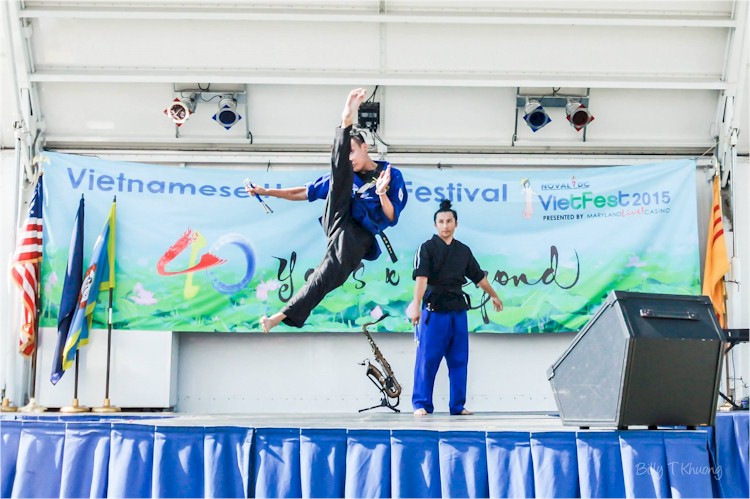 Show us your talent at VietFest for a chance to win the $1,500 Grand Prize.
The deadline is August 1st. Sign up now! http://www.vietfest.com/vgt

If you are interested in sponsorship or vendor opportunities please email info@vietfest.com.

If you are interested in getting more involved with NOVAL-DC or participating in more events please do not hesitate to email us at novaldcmetro@gmail.com.

Thank you for all your support!

ABOUT NOVAL-DC

NOVAL-DC (National Organization for Vietnamese American Leadership) is a service-based nonprofit organization with a mission to develop sustainable leadership among Vietnamese Americans and to preserve and promote the Vietnamese cultural heritage.

NOVAL-DC with AmazonSmile

Amazon will donate 0.5% of the price of your eligible AmazonSmile purchases to NOVAL-DC.

If you have an Amazon account, please go to http://smile.amazon.com/ch/45-3546980, log-in to your account, and select NOVAL-DC as your supporting organization. Then bookmark the site so that every time you purchase from Amazon you can make sure you buy from the http://smile.amazon.com/ch/45-3546980(purchases made from the regular Amazon.com site will not count).

With every purchase you make you can help support our mission to provide leadership development to Vietnamese youth and promote Vietnamese culture to the Greater DC community. Thank you for your support!

Copyright © 2017 NOVAL-DC, All rights reserved.
Please accept NOVAL invitation

Our mailing address is:

NOVAL-DC
PO Box 34437
Washington, DC 20043
Add us to your address book

Những trang liên hệ
Mũ Đỏ HTĐ Thư cho "Cô" Tuyết Mai v/v VietFest 2017
Hình ảnh Sinh hoạt Hội Chợ VietFest - 2017
Thư ngỏ gởi Đồng Hương VN vùng Hoa Thịnh Đốn – 2017
Những "phá hoại" tiềm ẩn trong CĐNVQG/HTĐ&PC
Trò chuyện về Hội chợ Văn hóa Việt Nam - 2017
Thư mời tham dự Hội chợ ViệtFest - 6th